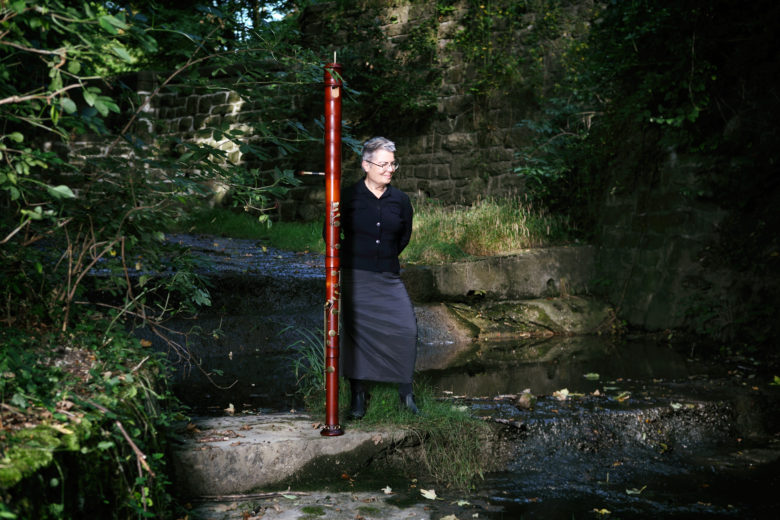 About improvising
In 2019, an improvised piece was recorded at the Banff Centre of the Arts, Canada.
MORE RADICALLY (2019)
Pia Palme, bass recorder and Rosie H. Middleton, mezzo
The piece features a text I wrote at Banff. I made a video for this performance.
All about the piece is here >>> http://www.fragilityofsounds.org/more-radically/
For this solo improvisation, I perform with a Kueng C-bass recorder. I make extensive use of articulation and formants (no processing). The music was  recorded in one take at a studio in Vienna in June 2018; the piece was commissioned by the performer Aiko Kazuko Kurosaki for an installation.
For me, improvisation is the fertile ground, the hot compost heap, the core of my musical practice. Improvisation helps me to reconnect to what I would describe as first thoughts – sonic images that seem to pop up from within my mind, from a silent and secluded spot deep within. Sonic ideas. They can be triggered by perceptions. My inside is always linked the outside world by my ears, through the practice of listening.
When arising, these first sonic ideas appear to be fresh and immediate, at the same time raw and unrefined. I observe a similar process when I compose: in this case, the entire process extends over a much longer time span.
I improvise with different instruments; currently I prefer the contrabass recorder (using one, two, or three microphones for amplification). Sometimes I use the lower part of the instrument as a feedback-generator (aerofone) in combination with electronics. Also, I work with electronics only (analogue and digital, such as ringmodulators, analogue pedals, computer).
A recent example of a composed improvisational format in a spatial setting is my cartographic performance arbesbach 2016. This recording is not edited; the entire piece was recorded in one section, as it can be heard on the video. Before the recording, I did a series of experiments on site to prepare. This performance is in between a composition and an improvisation. The setting, concept and format are composed. The music is performed within this setting. One might say it is improvised; however, I find that the place, the setting and my conception very much shape the improvisation.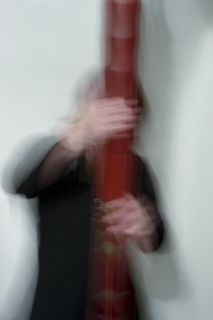 A key experience was an improviser's retreat, which I did in 2007: I closed myself in at a place (a studio in Vienna) practicing solo improvisation continuously for some days. In my solitary retreat, I set a schedule of practising several hours a day, without stopping, and concentrating on artistic practice. During this period I experienced various levels of being emptied out sonically. There were stages when I felt that all my (musical) ideas had gone. It was interesting to continue playing in that state. It seemed to me that nothing 'sounded' any more.

Ryoko Akama / Pia Palme (2013)
Ryoko and I improvised in a studio at the University of Hudderfield. We used electronic parts, a Shamisen, strings, various microphones, feedbacks, KOMA pedals, ringmodulators, computers, Kueng-C-contrabass recorder, fingers, tongue, mouth – having fun during a cold & snowy afternoon.

Solo improvisation
This improvisation with subbass-recorder and electronics was recorded live at quiet cue, Berlin March 2012. All sounds were created live, no samples involved. I like the idea of coming to a venue completely empty, without stuff on my computer, and leaving it empty again, a nomad of sound.

An improvisation series: Hommage to Hildegard
This series of improvisations with the contrabass recorder was recorded during a retreat in a mountain hermitage in Tyrol. Thanks to MUKU St. Johann I had the opportunity to practice in the small early-baroque chapel for some days, also late at night. The place can only be reached by foot and is situated on a clearing in the mountain woods.
The music was recorded at the names-day of composer Hildegard von Bingen, during a clear and cold night in 2010. There was no (human) audience present.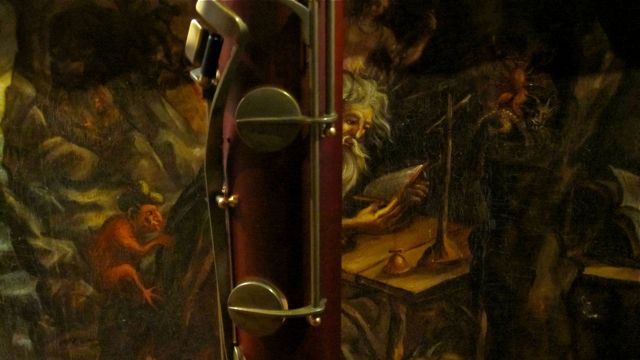 The improvisation DORT NICHT ALS was performed with subbass-recorder and electronics (no computer in this case) and live recorded at a concert for Forum Neue Musik in Hamburg, 2010.

KÖRNUNG (2012)
features a duo-improvisation with Herwig Neugebauer, double bass recorded live at Porgy&Bess, Vienna. I use the Kueng-contrabassrecorder amplified with 2 microphones plus an octaver.

Pia Palme / Thomas Wagensommerer (2011)
This video shows an improvisation with media-artist Thomas Wagensommerer, with whom I have been working on several projects. It was recorded at MOOZAK festival 2011.
Link to video: http://www.mediaopera.org/events/moozak-festival-tag-2

Pia Palme / Klaus Lang, organ (2009)
Here, I perform with aerophone, ringmodulators, electronics, kueng-subbassrecorder unplugged and garklein recorder). Klaus Lang performs at the (pneumatic) church organ. Recorded at Marienkirche Wels (Austria) during the series Im Pavillon 2009.
❏