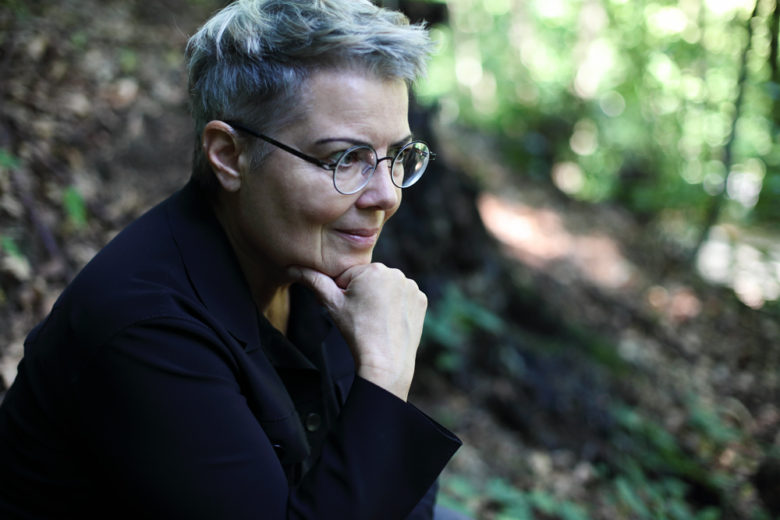 Biography Pia Palme/English 2021

www.piapalme.at
www.fragilityofsounds.org
Pia Palme, born in Vienna, is a composer, performer, curator and artistic researcher with a focus on experimental and contemporary fields of music. She composes performative ecologies including multiple disciplines. Her own practice often involves interactions with electronic music, writing texts, video and visual art. The backbone of her work is the physicality of performance, a theme she regularly and personally revisits as a musician with her bass recorders.
From 2019-2022 she conceived and directed the comprehensive artistic research project 'On the Fragility of Sounds' funded by the Austrian Science Fund FWF at the University of Music and Performing Arts Graz, Austria, where she explored alternative forms of music theatre and composition at the intersection with feminist practices. In this project, she collaborated with the theatre scholar Dr. Irene Lehmann and the musicologist Christina Fischer-Lessiak. Further, the project involved ensembles such as Airborne Extended, PHACE (Vienna), KNM Berlin and Schallfeld (Graz), with singers Juliet Fraser, Anna Clare Hauf and Annette Schönmüller, as well as with harpsichord soloist Sonja Leipold, the specialist in historical oboe instruments Molly McDolan and the dancer Paola Bianchi. Within the framework of this project, the album 'Fragility of Sounds' (various artists) was published with Ventil Records Vienna. The album was nominated #11 among the top 50 albums of the year 2022 by The Wire Magazine.
Palme has published a number of articles around contemporary composition, music theatre, performance and feminisms. Her recent book 'Sounding Fragilities. An Anthology', co-edited with the theatre scholar Irene Lehmann, was published by Wolke Verlag in 2022.
Pia Palme studied mathematics, and projective geometry (at the TU Vienna) and music (at the former Conservatory of the City of Vienna, now MUK) and began her professional career as a classical oboist, recorder player, and music educator. From there, she turned to experimental and electronic music, improvisation, and composition. In 2011 she began her doctoral research at the University of Huddersfield, UK under Liza Lim and Monty Adkins, around the theme of a feminist practice in composition. In 2017, she completed her doctorate with the portfolio 'The Noise of Mind'. Palme's compositions and/or performances have been presented at festivals such as Wien Modern, Klangspuren Tirol, hcmf, Ars Electronica Linz, Ultima, Salzburg Biennale, Neue Musik St. Ruprecht Vienna, and at venues like the Splendor Amsterdam or Iklectic London. Her collaboration with the composer Éliane Radigue led to the realisation of two compositions for the bass recorder as part of the OCCAM collection. As an improviser, Pia Palme cooperated with Rhodri Davies, David Toop, Elisabeth Harnik, and Matthias Loibner, among others.
Recognitions include the 'Outstanding Artist Award' of the Republic of Austria (2015) and the 'George Butterworth Prize' in composition (UK, 2015), Ernst-Krenek-Prize from the City of Vienna, as well as a number of scholarships and residencies, such as from the City of Vienna, Sound and Music UK, Siemens Foundation, and the Austrian Republic. She was invited as Artist in Residence to the Örö Residency Programme Finland, the Q-O2 Workspace Brussels, the Teahouse Residency from the Austrian Embassy in Tehran (2014) and to The Banff Centre of the Arts, Canada (2019), among others. In 2022, she was a Konen Saari Fellow in Finland.
Artist Residencies:
Wellington, New Zealand (2009)
Reykjavik, Iceland (2012)
Tehran, Iran (2012, 2013, 2014) with the Cultural Forum Austria ans Austrian Embassy
Q-O2 Workspace Bruxelles, Belgium (2017)
Örö Artist Residency Programme, Finland (2018)
The Banff Centre of the Arts, Canada (2019) Musician in Residence
Uncool Residency, Poschiavo, Schweiz (2020)
Konen Saari Fellowship, Finland (2022)
In her performance lectures, Pia Palme develops a form of contemporary storytelling combined with musical performance and multimedia art. Lecture recitals were held at ZKM Karlsruhe, Harvard University, Universität für Angewandte Kunst Wien, Porgy & Bess Jazzclub Vienna, Iklectik London, FAU Erlangen, Splendor Amsterdam, and Goldsmiths University London.
As a performer with her contrabass recorder she has cooperated with several composers to realise new works, such as with Èliane Radigue, Joanna Wozny, Jorge-Sanchez Chiong, Hannes Kerschbaumer, and Katharina Klement.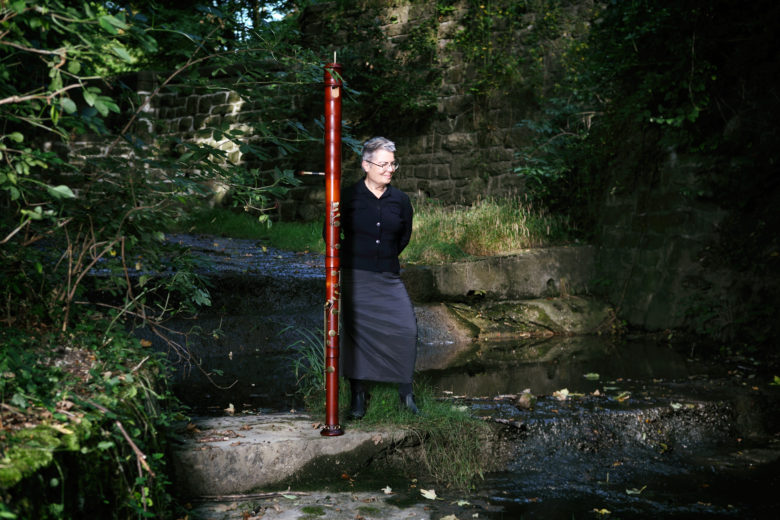 Biographie Pia Palme/Deutsch
www.piapalme.at
www.fragilityofsounds.org
Pia Palme, geboren in Wien, Komponistin, Musikerin und künstlerische Forscherin, Kuratorin, lebt in Wien. In ihren multidisziplinären Werken bezieht sie den Zustand der Erde und Gesellschaft stets mit ein und entwirft raumgreifende Ökologien zur Musik. 
Aktuelle Arbeiten sind etwa ZELTEN am verschwundenen Ufer (2022, für das Ensemble airborne extended, den Schlagzeuger Manuel Alcaraz-Clemente, Palme selbst als Sprechstimme und performende Bassblockflötistin, mit Text und spatialisierter Elektronik), ON A FORMER ISLAND (2022, eine experimentelle Musikperformance mit zwei Shibari-Tänzerinnen im Sibelius Museum Turku), ZELLWÄRTS (2021, ein Textstück für das KNM Ensemble Berlin), KREIDEBLEICH (2021, für Cembalo Solo mit Video, gezeigt und diskutiert bei der Reihe Tuning of the World des KNM Ensembles in Berlin & Taipei), das Musiktheater WECHSELWIRKUNG (2020, mit Juliet Fraser, Paola Bianchi und dem Ensemble PHACE, UA bei Wien Modern im WUK Projektraum Wien), oder MORDACIOUS LIPS, TO DUST für das Vokalensemble EXAUDI (UA London 2015). 
An der Kunstuniversität Graz konzipierte und leitete Palme von 2019-2022 das international viel beachtete PEEK FWF Projekt On the fragility of sounds zur Erforschung von Musiktheater und Komposition aus der Position der künstlerischen Aktivität heraus, mit feministischen Hintergrund. Das dabei herausgegebene Album Fragility of Sounds (various artists, Ventil Records Vienna) wurde vom The Wire Magazine auf Platz 11 der fünfzig Top-Alben des Jahres 2022 gelistet. Weiters erschien dazu das von Palme mit der Theaterwissenschafterin Irene Lehmann herausgegebene Buch Sounding Fragilities. An Anthology über heutige Musik und Musiktheater (Wolke Verlag, 2022).
Palme lehrt, kuratiert, und publiziert und tritt weiterhin als Performerin mit Bassblockflöten auf. Mit der Komponistin Éliane Radigue erarbeitete sie 2014 zwei Stücke mit Bassblockflöte solo und Bassblockflöte und Harfe (mit Rhodri Davies) für die OCCAM Sammlung. Von 2006 bis 2012 konzipierte und leitete sie im Tandem mit der Stimmperformerin Gina Mattiello die Festivals e_may für neue und elektronische Musik; im Rahmen dieser Festivals wurden erstmals und einmalig in Österreich gezielt über 50 Kompositionsaufträge an Frauen vergeben, um Komponistinnen zu fördern.  
Palme studierte Musik am (ehem.) Konservatorium der Stadt Wien (heute: MUK) sowie Mathematik und Darstellenden Geometrie an der TU Wien. Ab 2011 forschte sie für ihr Doktorat in Komposition an der University of Huddersfield, UK bei Liza Lim und Monty Adkins zum Thema Komponieren als feministische Praxis und dissertierte 2017 mit ihrem Portfolio The Noise of Mind. Die Komponistin erhielt unter anderem den Outstanding Artist Award der Republik Österreich für das experimentelle Requiem BARE BRANCHES, den Ernst-Krenek Preis der Stadt Wien, weiters gehörte sie 2015 zu den New Voices von Sound and Musik UK und erhielt 2016 den George-Butterworth Composition Prize, UK. Sie erhielt Einladungen zu Festivals wie Wien Modern, Ultima, Huddersfield Contemporary Music Festival, Musikprotokoll und Steirischer Herbst, Salzburg Biennale, oder Klangspuren Tirol. Als Artist in Residence wurde sie in die Saari Residence 2022 nach Finnland berufen, nach Tehran zur Austrian Embassy Teahouse Residence 2014, in den Q-02 Workspace Brüssel oder 2019 ins The Banff Centre of the Arts, Canada.
My site at the British Music Collection:
http://britishmusiccollection.org.uk/composer/pia-palme