15/11 Fuzzy terrains

It is raining a lot. Lichens grow and expand everywhere, covering trees, rocks, the ground. The world looks fuzzy and contours lack definition. 
I decided to occupy the historic mess hall (now hosting a small exhibition) at the southwestern end of Örö. The acoustics are good, the house is made of wood except for the foundations. Inside, it is dry and quite a bit warmer than outside, still, although the door does not close properly. I like the smell of the old wooden floor, blackened with tar; it is a smell that recalls pleasant childhood memories. The room is spacious.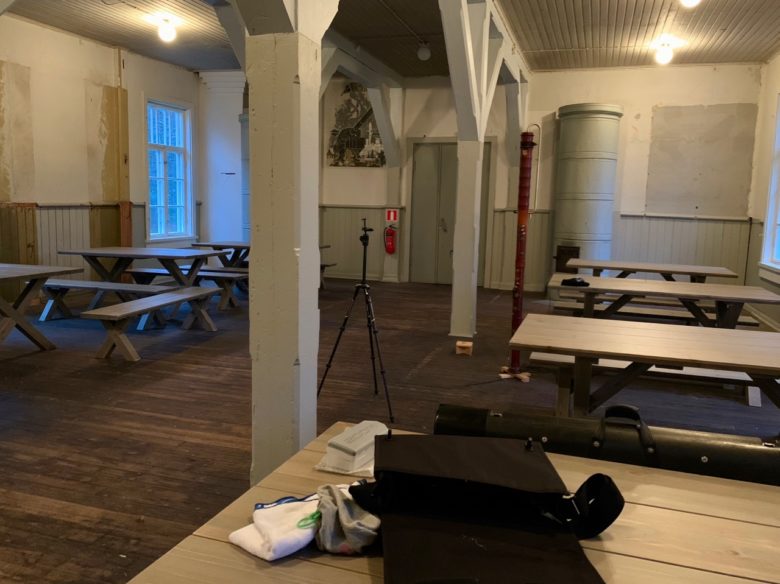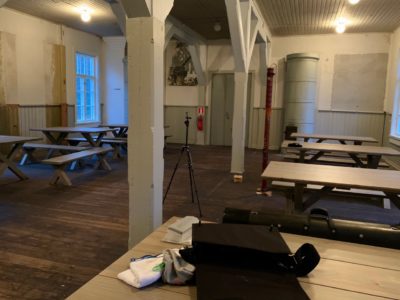 It has three huge stoves (not working) and a mural from the 1930-ies. This photo from Örön Linnake (2008), Johanna Pakola's comprehensive investigation into the history of the island, shows the hall in its former function.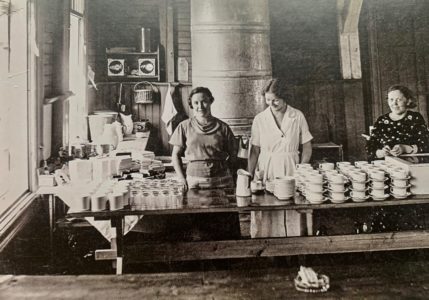 Since nobody else is there now, and the door stands open, I have turned the hall into a studio space – as long as temperatures will allow. I walk through coastal woods with my instrument and gear, thinking: let's make experimental music for the soldiers of the past who look down on me from the photographs pinned to the walls (the accordionist is here, too). Last Tuesday, I recorded three pieces. Lichens worlds, and my sense of defiance towards military thinking played a certain role in the making of this performance. In the background, the constant noise of the sea is faintly audible. The hall stands near the shore.
Yesterday, I came across this wonderful passage in a book I currently read: Siri Hustvedt's Living, Thinking, Looking (2012, Hodder&Stoughton, London) – some of her books are also available in German translation. Indeed, I took her book to the island with me, in print format. Within the context of experiencing a loss in perspective for my work, on this island, I find these sentences interesting:
"A willigness to lose perspective means an openness to others who are guided by a set of unfamiliar propositions. It means entertaining a confounding, even frightening and radical intersubjectivity. It also means that however happy you are among the few residents of your particular island, that little island is not the whole world."
From afar, I wave at the Wien Modern audience. I miss you.