Pictures from the rehearsal of my new piece SETZUNG 1.1,
Michaela Schausberger performing.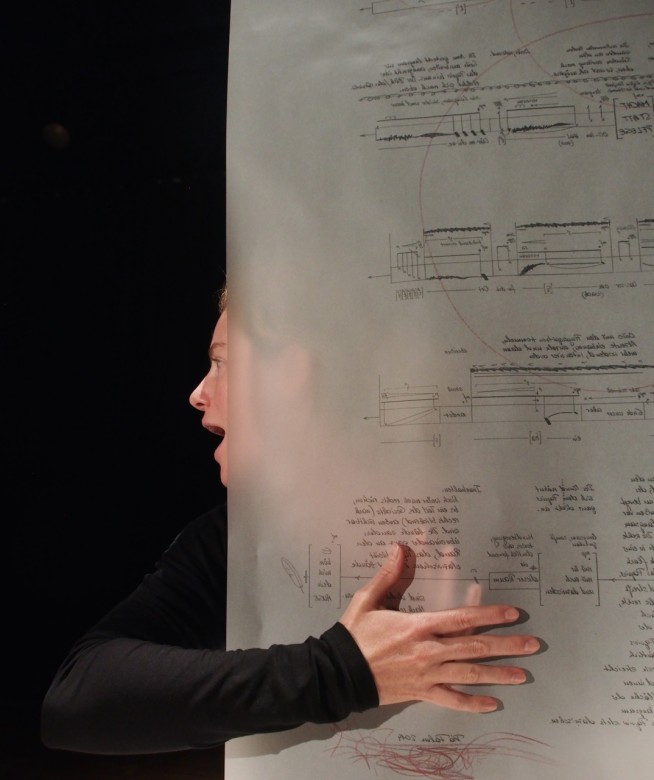 Some reflections about my recent work, in the context of drawing on paper, the historical figure of Sor Juana and intermediate objects, such as a membrane score.
Will be published soon, in an extended version.
Mittwoch, 24. September 2014, 19:30 Uhr Wien,
Off-Theater, 1070 Kirchengasse 41
cercle – konzertreihe für neue musik presents:

Compositions by
Klaus Lang, Lukas Haselböck, Pia Palme,
Gernot Schedlberger
Performed by: Johann Leutgeb, Bariton; Lukas Haselböck, Bass; Michaela Schausberger, Schauspielerin.
SETZUNG 1.1
Composition, text and setting by Pia Palme 2014
will be premiered by actress Michaela Schausberger
The picture shows a first print of the huge score.
Thanks to gap-repro Vienna, for the fine final print on transparent paper.