MY ROOM, UNTIL YESTERDAY (2017)

Mein Zimmer, bis gestern
Music theatre, with people between 7 and 21 years
for voice, two ensembles, live-electronic, video
conception and direction: Pia Palme
composition: Pia Palme & Ensemble 22
duration 23 minutes
Live recorded at the premiere by Thomas Lang.
First performance as part of Junge Musik @ festival Wienmodern 2017
(curated and organised by Cordula Bösze and Michael Weber)
in cooperation with Musikschule Wien and IGNM
07/11/2017 Odeon, Vienna 19:00
Texts: Ensemble 22 & Pia Palme
Video: Benjamin Stolz & Pia Palme
Masks built in Kooperation with Wintercroft, UK by David Palme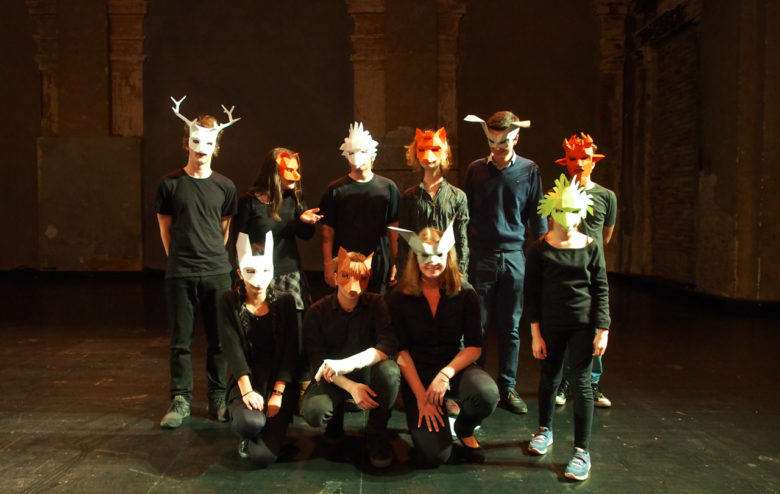 Besetzung bei der Uraufführung:
Ensemble 22
Stimme: Clara Baudis [Klasse Equiluz, MS22]
Akkordeon: Pia Madlener, Lotta Klaus [Klasse Todorovski, MS2]
Klavier, Cembalo: Evelyn Seng, Martin Zottl [Klasse Banholzer, MS19]
Blockflöten: Benjamin Stolz, Florian Stolz [Klasse Palme, MS22]
Schlagwerk: Rafie Arsalan [Klasse Bergauer/Ramstorfer, MS22]
Elektronik: Felimy Loeschnig [Klasse Mayer, MS10]
Sopranblockflötenquintett 22
Alice Baumgartner, Mai-Chi Nguyen, Luis Kaupa,
June Tawfik, Marijka Bordiug [Klasse Palme, MS22]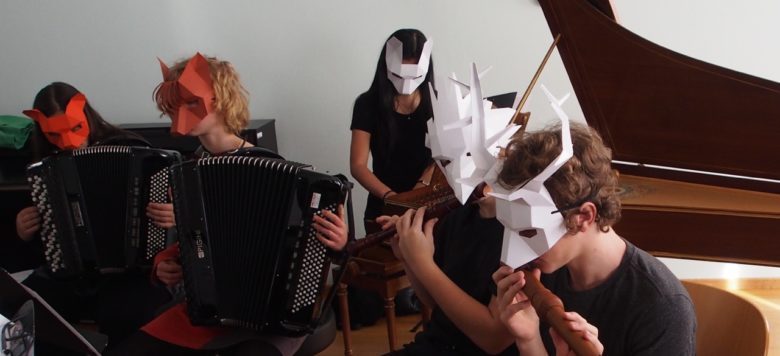 Kompositionsauftrag der IGNM Österreich.
Dank an das BKA Österreich für die Unterstützung der Kompositionsarbeit.
Dank an das Klangforum Wien für ein Klaviertutorial.
Dank an Wintercroft UK für die Kooperation und Unterstützung.
Dank an die Musikschule Wien 22 für die Unterstützung der Pobenarbeit.
Dank an die beteiligten Lehrkräfte der Musikschulen der Stadt Wien Milos Todorovski (MS2), Veronika Mayer (MS10), Eva Banholzer (MS19), Manfred Equiluz und Daniel Ramstorfer (MS22) für die fachliche Unterstützung.