THE NEW MODEL OPERA
Project sketch by Pia Palme
A collaborative and interdisciplinary project to present structures of operatic action: vocal, instrumental music and sound-art, contemporary puppet-theater, fashion and textile design, movement, video, texts.
Duration: 30-40 minutes.
Location: Bates Mill, Warehouse (?)
Inspiration
This project was inspired by an incident in October 2013, when I watched students of the fashion department of the university of Huddersfield working on paper dresses in the atrium. The theatrical quality of the crowd of manikin puppets clad in white paper creations sparked my curiosity. I went closer and asked whether I could touch them. Feeling the paper with my fingers immediately revealed the inherent sonic qualities of the material.
I felt drawn towards creating a performance which would incorporate manikin puppets wearing elaborate white paper dresses. Apart from the uniform manikin puppets used by the students, the white paper de-personated the highly individualistic creations.
This seems interesting from a compositional point of view: in a vocal ensemble there is also a uniform quality that one wants to achieve as a composer and conductor, although voices are highly individual in their expression.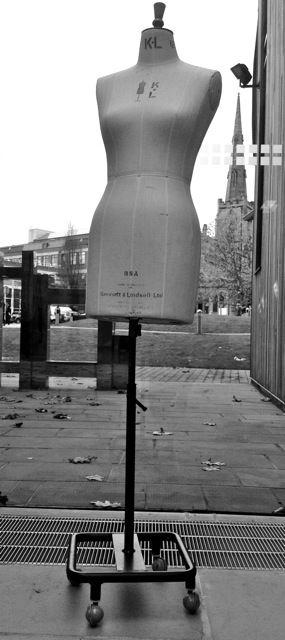 Further studies of contemporary puppet theatre and Heiner Goebbels 'Ästhetik der Abwesenheit' inspired me to think about manikin puppets as a de-personalizing agent for a vocal ensemble. I imagine a choir handling puppets while performing; the voices then seem to originate from the puppets rather than the singers.
Using audio-scores for the vocalists will underline the image of a remotely controlled choir/army. The aspect of uniformness versus emancipation of the individual could thus be represented by an chorus-line of paper-clad puppets.
I also want to make use of the historic role of fashion in the Victorian period. Garments for social high-ranking ladies were carefully stiffened with starch. Every movement of the lady created an aural environment of noise around her. This sonic environment served as an announcement of her presence: noise announcing a lady seems an intriguing thought to me as a female composer…women forming an army of remotely controlled noisy puppets.
In this work I want to contrast individualism as represented by two soloists against a de-personalized group identity.
I highly appreciate the wonderful exchange I had with artist, Sen. Lect. and fashion/textile expert Hilary Hollingworth about sonic aspects of textiles and fashion.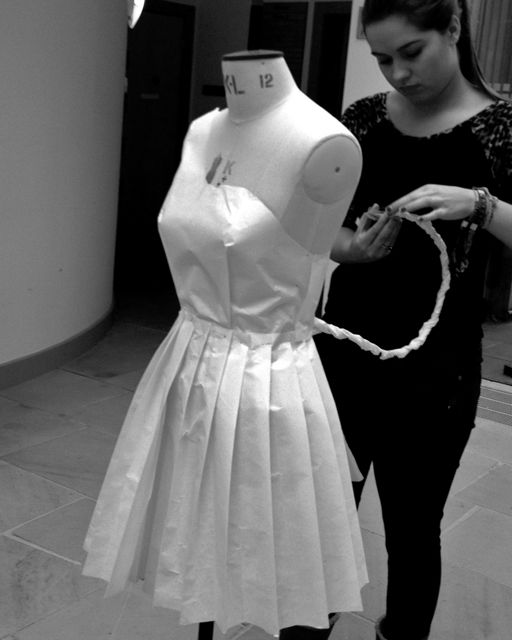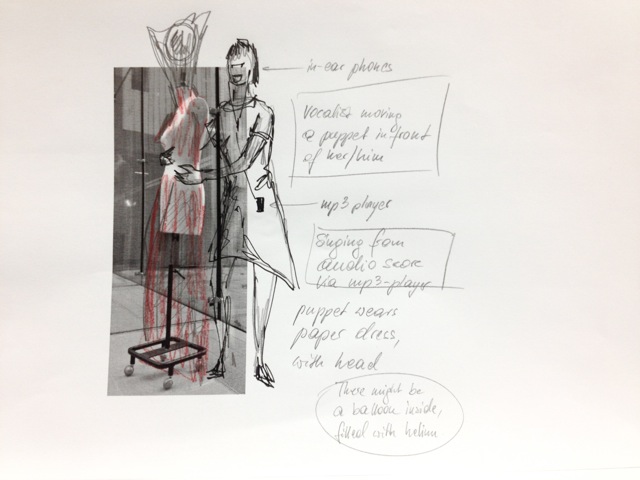 Musics
Composed vocal music for 1 female vocal soloist and 1 male actor;
the 'model chorus': a moving and acting vocal ensemble (10 voices, 2 for every puppet) via audio-score;
music for instrumental ensemble.
Different musics will make up the score for this piece. Along a time-line structure, composed instrumental / electronic music will interlace with vocal pieces and solos.
Puppet theatre and audio-score
Fashion design manikin puppets will be dressed in individually sculpted long garments of white 'loud' paper.
Every vocalist will move her/his own puppet according to a given choreography. The vocalists will be dressed black, puppets dressed in white paper.
The voice of the singer appears to be dis-associated from the human being and will be connected with the puppet.
The use of audio-scores will facilitate movements for the vocalists. Singers will have to concentrate inward. I aim at a chorus/army of model puppets moving through space and singing. Action by the singers will include manipulation of the dresses to create sound with the paper.
The subtle noises of the paper manipulated by the singers will be used in the piece. Movements of the singers are choreographed to structure a composition of noise-textures.
Visuals
3 individual projections by different artists, of different size and duration in individually selected visual spaces, on structured surfaces. The task for the artists would be to create the video itself, and to choose and prepare the exact position, space, size and other parameters to create an individual texture for the visual image. Investigating textural aspects of fabric design could serve as a starting point for the video works – with completely open results.
Opera
The soloists' parts contrast the model chorus: a soprano will perform from a conventional written score, a male actor will perform vocal productions following a composed score from an actor's point of view. Their parts will contrast the chorus in gesture, as well as musically, and feature highly accomplished vocal production in two different fields of acting/singing.
It will be an experiment for me to closely work with an actor, and find out how the specific training of an actor can be turned into musical production through a compositional approach.
General aesthetic approach
The piece aims at providing a non-narrative, multi-disciplinary space / operatic scenery to be shared with the audience. The audience will be encouraged to move through the space or sit down at will. It will not be possible to perceive everything, individual perspectives will be created by the audience.
Collaborative aspects
The work will be collaborative: several artists work together to create a piece. I trust that if the general structure is strong and open, and communication is kept open and flowing, it will be possible to bring forth interesting works and contributions from the individual artists involved.